LigoDLB 5-90ac
Cost-Effective Base Station with an Integrated Sector Antenna
Equipped with a 750MHz QCA 9563 CPU, a QCA 9882 radio, and 64MB RAM/16MB Flash Memory, the LigoDLB 5-90ac brings efficiency to the next level.
The state-of-the-art RF design delivers great output power, improves range, and enables capacity over 256QAM.
+500Mbps of throughput—the result of a powerful hardware platform with an 802.11ac technology-based radio and the iPoll proprietary data transmission protocol.
The LigoDLBac Series is backward-compatible with LigoDLB using iPoll, extending the lifetime of DLB devices and making network expansion and upgrading straightforward and inexpensive
Small Form Factor
LigoWave presents a new smaller form for the base station's enclosure, which is lighter yet still retaining IP66-rated weather protection. Smaller packaging reduces freight costs and makes them less obvious. The new design has no metal parts, which makes them lighter and corrosion resistant.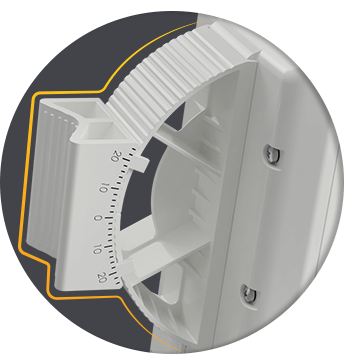 Innovative Mounting Bracket
The adjustable mounting bracket is very easy to assemble and install. It consists of two easy-to-connect parts that allow tilting the device up and down when installing on a pole.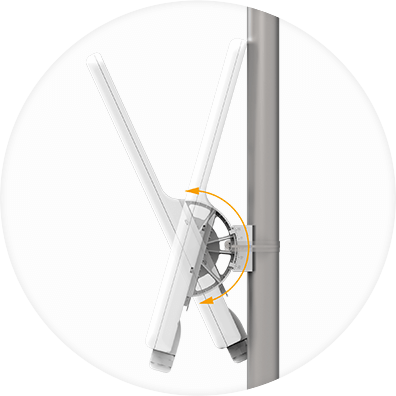 Pole Mounting
Tilt the device in any of four directions—up, down, left, or right—with the DLB Pole Mount, thus ensuring ideal precision tilting and optimum link adaptability.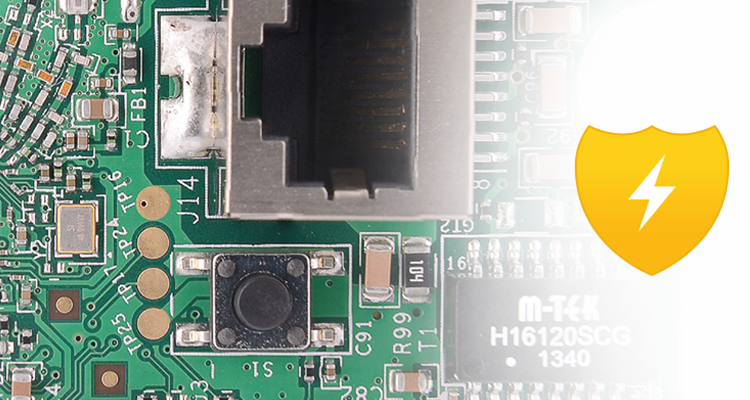 Integrated Surge Protection
3kV line-to-ground and 1kV line-to-line protection allows operation under harsh weather conditions and unstable electrical installations.
Hotspot Scenario Support
Starting with v7.52, Infinity firmware can be used on LigoDLB devices for outdoor hotspot and related applications. The firmware upgrade converts the DLB base station from a PTP/PTMP device into an access point for outdoor hotspot networks.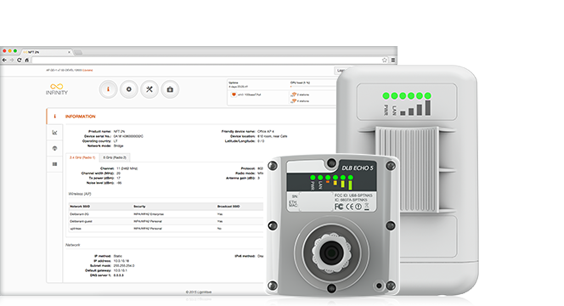 iPoll 3: Enhanced Performance Protocol
LigoWave's iPoll™ PTMP (Point-to-Multi-Point) proprietary protocol is an innovative solution, eliminating transmission congestion and close-cluster interference created in wireless PTMP installations.


LigoWave OS
LigoWave OS contains all of the essential features for establishing fast, strong, and reliable PTMP networks. The LigoWave OS includes IPv6 Bridge & Router Support, SSDP & Bonjour Device Discovery Options, Flexible Traffic Shaping, DHCP Option 82, and more. The user interface is built on HTML5 with responsive design. The LigoDLBac Series are backward-compatible with LigoDLB devices through the iPoll 3 Proprietary Protocol.
Customer Reviews
Be the first to post a review for this product
| | |
| --- | --- |
| Coverage recommendation: | 5km |
| WLAN standard: | IEEE 802.11a/n/ac, iPoll 3 |
| Radio mode: | MIMO 2×2 |
| Radio frequency band: | 5,150 - 5,850GHz (FCC 5,150 - 5,250 and 5,725 - 5,850GHz) |
| Transmit power: | Up to 30dBm (country dependent) |
| Error correction: | FEC, LDPC |
| Antenna Type: | Integrated dual-polarized 90 degree sector antenna |
| Gain: | 18dBi |
| Wired Interface: | Gigabit Ethernet |